Positions with Adelynrood and the Companions
We have full time and seasonal staff positions. Openings are posted on this page.
Current Openings 
Unique Positions for Culinary Creatives and Outdoor Enthusiasts!
(2 positions available; April-September 2023)
We do quality scratch cooking that is served buffet style for between 10 and 110 guests. Our food is seasonal and healthy, with a diverse and flexible menu. The kitchen is spacious, sunny and well set up. We pride ourselves on offering fine dining in a rustic environment with a relaxed atmosphere.
We hope you would want to share your own specialties and to have the flexibility to adapt to the dietary needs of those we cook for. There is one full time position and two part time positions.
We are an independent owned kitchen operated by a non-profit that values our employees. This is not industry, this a quiet corner of the culinary world.
Compensation: $21/hour
Contact Adam, 978-462-1589 Ext. 30 AdamSegal@schcCompanions.org
Seeking motivated staff member who can do a little bit of everything to help keep our kitchen running. We have part time positions at our beautiful and rustic conference and retreat center from late April to early October.
Responsibilities include:
Vegetable prep
Assisting with desserts and salads
Running dish machine
Making coffee
Stocking orders
Dining room maintenance
Our kitchen works with two shifts: 7:00-2:30 PM and then 3:00-8:30 PM. We particularly need help for the early shift. We have some flexibility for scheduling if need be. Previous kitchen experience and customer service experience is very helpful. Free meal included with each shift! A great first kitchen to work in for someone thinking of cooking professionally.
Average work week will total 18-20 hours, some weeks more, and some weeks less.
Compensation: $15.50 to 17.50 depending on experience.
Contact Adam, 978-462-1589 Ext. 30 AdamSegal@schcCompanions.org
We are seeking a hardworking, reliable, and diligent Landscape Laborer to join our facilities team. 
The Landscape Laborer is under the direction and supervision of the Adelynrood Facilities Manager and completes a variety of tasks to achieve a functional and pleasant outdoor area. 
Experience operating lawn maintenance equipment such as walk behind and riding lawnmowers, trimmers, and leaf blowers is preferred but not required.
This position is responsible for caretaking unique outdoor spaces and working with staff and volunteers alike. Their duties include performing necessary maintenance on grounds, turf, and occasionally gardens.
The successful candidate for this position should expect to:
Mow and trim grass
Adhere to all safety precautions as directed by the Facilities Manager and equipment owner's manuals.
Rake and leaf blow fallen leaves and remove the same. 
Properly store and handle all equipment, tools, etc. 
Lift as much as 50 pounds and handle the physical demands of a job that includes: walking, standing, bending, lifting, pulling, and climbing. 
Perform other assigned duties assigned by the Facilities Manager.
Compensation: $19/hour
Contact Sarah van Gulden, 978-462-1589 Ext. 11
gm@schccompanions.org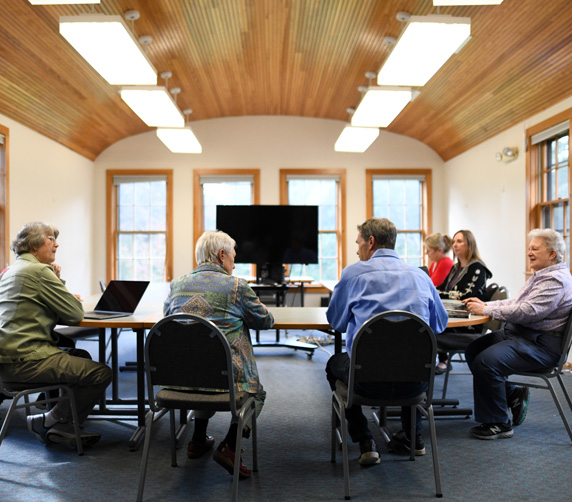 The Work Environment
The Society of the Companions of the Holy Cross (the Companions) is a nonprofit women's organization with members around the world. We own and operate Adelynrood Retreat and Conference Center in Byfield, Massachusetts, where our offices are located. Adelynrood provides a peaceful park-like setting for our paid staff, our members and our guests.
From May to October, Adelynrood has a busy schedule of retreats, conferences, meetings, and other opportunities for our members and guests. We hire seasonally to support our hospitality and we have year-round staff that support the activities of the Companions' organization, and the operations of the conference center.